Netflix Queue Manager v3 for Blackberry has been discontinued as of 10/2011
In late September my NQM app stopped connecting to Netflix. As I logged in I was greeted with this Initializing screen: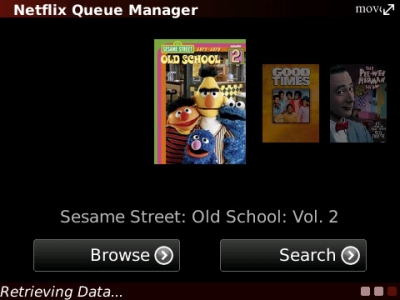 Then it just dropped into the Login screen following an error message stating "Login credentials incorrect. Please retry".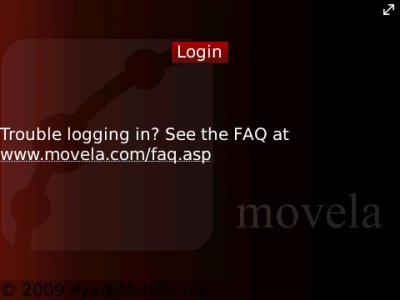 I sent a Feedback report from within the app and got nothing. In October I sent an e-mail to Pyxis Mobile asking for an explanation of the status of their Blackberry app Netflix Queue Manager v3:
From: Paul James Chatman
Sent: Wednesday, October 12, 2011 5:38 AM
To: Movela Help; Pyxis Support
Subject: Netflix Queue Manager not connecting on Blackberry

[COMPLAINT]==============================================
To: movelahelp@pyxismobile.com
Subject: Issue report: Tue Oct 04 05:51:51 America/Los_Angeles 2011
Sent: Oct 4, 2011 5:56 AM

I keep getting "Login credentials incorrect. Please retry" with no indication of what's wrong. I connected just fine
a couple days ago, and now all day I get the login error. I tried all suggestions in the FAQ, what is going on?
Is the app being discontinued because of Netflix's new service changes with separate queues?

October 12, 2011 2:26 AM
I even removed the app form my Netfilx authorization list, and re-added it. I still get the "Login" error message.
I have changed the Connection Type to Auto, BIS, and Wi-Fi and none are working. What is going on? I paid for
this app (4.99$ see below for invoice) and want to know why noone from your company has contacted me yet??
What is going on? Why can't I connect? My Netflix account and password are correct. I linked from both my Blackberry
and my PC and the link was successful. Why I am not connecting? What is going on? Why won't anyone tell me what's
going on? It's been over a week since I first emailed this issue to you!

Is the app being discontinued because of Netflix's new service changes?

PS: Why the Android version FREE vs the paid version for Blackberry?

Paul James Chatman

[APPLICATION]=========================================
Application: MovelaNetflix v 7.1.13.8
Queue Manager v 3.0
User ID: 216c****, Auth type: DEVICE
OS Version: 5.0.0.714, Model: 9700
Built for BlackBerry OS 5.0
Last Auth Type: NOT LOGGED IN
Last Server Response: Tue Oct 04 05:31:04 America/Los_Angeles 2011
Connection Type: AUTO (Consumer (BIS))
————
Application Name: Movela Netflix Queue Manager
Application Version: 3.0
License key: null
BB Apps Version: 5.0.0.714
BB Platform Version: 5.1.0.146
Display language: English
Input language: English
Current network: T-Mobile
Country code: US
SIM Home network: MNC=608;MCC=784

[RECEIPT]=============================================
From: Blackberry appWorld
To: pauljc@***
Subject: BlackBerry App World™ - Order Confirmation (Order #8759288842)
Sent: Sep 30, 2010 6:59 AM
Thank you for ordering from BlackBerry App World™ on September 30, 2010.
The following email is a summary of your order. Please use this as your proof of purchase.
Bill to: PAUL CHATMAN
Order number: 8759288842
Order date: September 30, 2010
Order total: $4.99
Order Details
Product Name: Movela Netflix Queue Manager
Qty Ordered: 1
Amount: $4.99
Company Name: Pyxis Mobile
SUPPORT: movelahelp@pyxismobile.com
Subtotal $4.99 Tax $0.00 TOTAL $4.99
This later query was sent directly to Pyxis Mobile via their website which was read by Ken Abrehamsen, Jeff Yeakley, Mark Metcoff, Richard Granata, and Garon Davis. Of which only Jeff Yeakley responded. I got his e-mail today:
From: Jeff Yeakley (jyeakley@pyxismobile.com)
Date: Thu, 20 Oct 2011 15:53:45 -0400
To: pauljc@***
Subject: RE: Netflix Queue Manager not connecting on Blackberry

Hi Paul,

Unfortunately, Neflix has discontinued support of the public API used to manage user queues and thus, support for the application has also been discontinued. Thanks.

Jeff
This is the only official information regarding the Blackberry app on the Internet: here on my blog and .netBoard!. The only other information is located here on the Netflix Developer Blog.
For 1 year and 5$ it was worth it, but Netflix is really getting my goat. Reading the Blog you discover that even the Qwikster API is being canned, and maybe the whole idea as a whole. Netflix doesn't want to do DVDs and Bluray anymore?! Then what is the point is staying in business at all? The streaming catalog has only a fraction of what is offered on DVD, and the Bluray catalog is even less. Sigh….I see a dark future for them unless they go back to the original business platform.
PaulJC